Linear Vibrating screen machine
Linear screen machinery vibration motor excitation as the source of vibration,so that the material was tossed in the sieve,while forward in a straight line material evenly into the screening machine feeder feed port,multi-layer mesh specifications of sieve,sieve material,respectively,discharged from their exports.With low power consumption,high yield, simple structure,easy maintenance,fully enclosed structure,no dust,automatic nesting,more suitable for pipeline operations.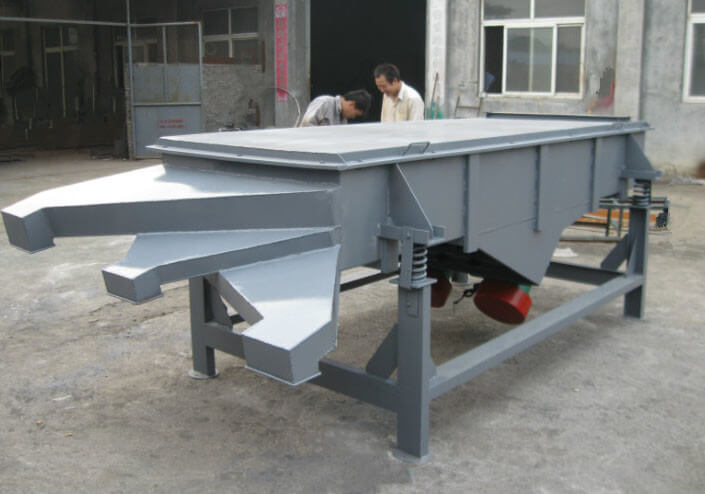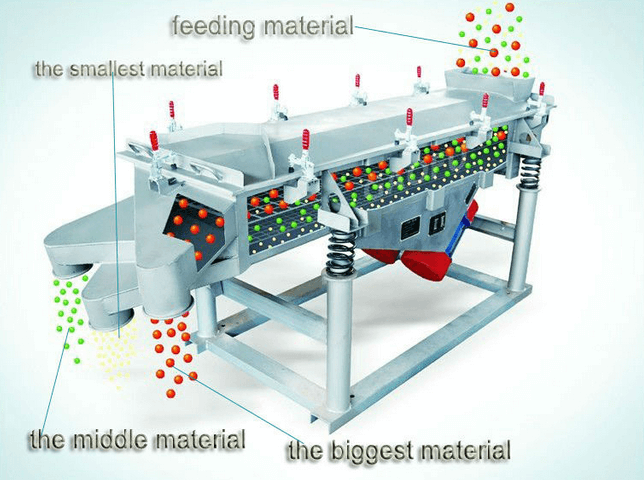 Machine sort:
According to the number of layers
:
1,Single-deck vibrating sieve. 2,Two-decks and multilayer vibrating sieve.

According to the material of the machine.
1,Carbon steel square vibrating machine. 2,Stainless steel square vibrating machine.

About Structural details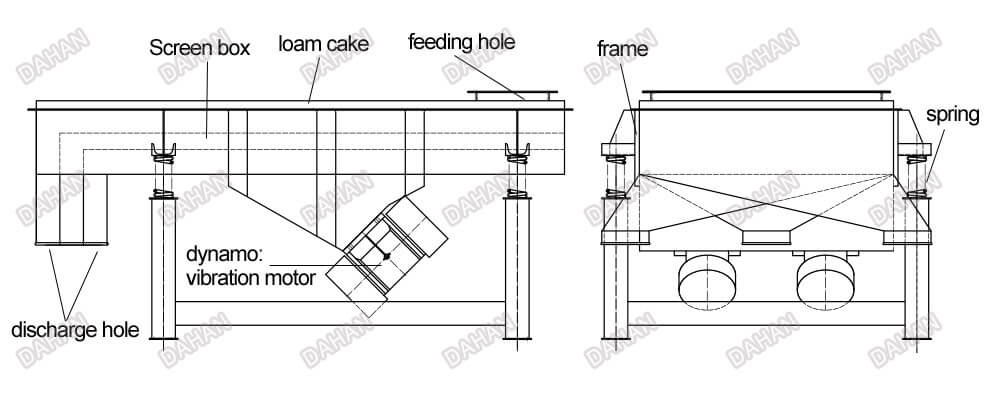 Structure Description
The screening machine is mainly composed of screen box, screen frame, screen, vibration motor, motor pedestal, damping springs, brackets and other components.
1. Screen box: the number of different thickness steel plates welded together, with a certain strength and stiffness, is a major component of the screening machine.
2, Screen frame: a small wood made ​​of pine or the amount of deformation is mainly used to keep the screen flat, reaching the normal screening.
3, Screen: low carbon steel, brass, bronze, stainless steel wire mesh and several kinds.
4, Vibration motor (use and maintenance methods are detailed in vibration motor manual).
5, the motor pedestal: Install vibration motor, connecting screws must be tightened before use, especially three days before the new trial screening machine, must repeatedly tightened to avoid loose causing the accident.
6, Damping spring: to prevent vibration transmitted to the ground, while supporting the full weight of the sieve box, during installation, the spring must be perpendicular to the ground.
7, Stents: the four pillars and two channel composition, supports screen box, when you install the pillars must be perpendicular to the ground, the two pillars of the following channels should be parallel to each other.
Technical parameters: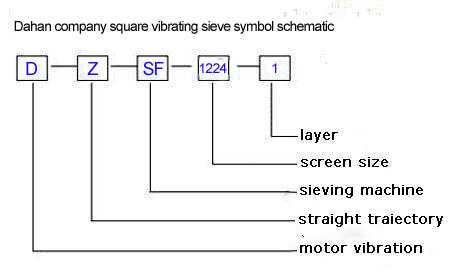 Becky Yang【Sales Manager】
E-mail:dhsales01@xxdahan.com
Mobile / Wechat / WhatsApp:0086-18738378118
Xinxiang Dahan vibrating machinery Co.,Ltd
Address:1000 West of Forest Park,Yanjin County,Xinxiang City,Henan Province,China.
If you place a order,we can delivery the machine you wanted
in 5 workdays
after receiving your payment.